Almost three quarters (73%) of the UK population now use mobile banking applications(1). As increasing number of people turn to mobile applications to manage their finances on the go, the race is on for workplace pension providers to catch up.
The COVID-19 pandemic has prompted many savers to reconsider how they manage their finances, with many turning to smartphone applications for the first time.
Between 14 March and 14 April 2020, around 12% of the adult population in the UK (six million people) downloaded their bank's mobile app for the first time(2).
As one in four over-55s rethink their retirement plans, and one in five consider raiding their pension pot(3), access to mobile apps for the management of workplace pensions is more relevant than ever.
Our data shows that all but two workplace pensions providers offer some form of mobile app for consumers to view/manage their pension.
Aegon Workplace ARC and NEST are the only providers that do not offer a mobile app. Aegon have said that they hope to have an app live during 2021 and with regard to NEST this kind of level of service is not what they were designed to do. NEST was established by the Government following Pensions Act 2008 and the introduction of Auto-Enrolment in order to ensure that every employer can have access to a workplace pension scheme that meets Auto-Enrolment needs. It was designed to be an affordable product to enable employers, that may not be able to afford to do so otherwise, to offer pensions to their workers.
According to our data, providers are offering a high percentage of the functionality that is available on Member Portals on their mobile app. Of the providers offering a mobile app, 60% offer all of the functionality available on their Member Portal.
The remaining providers with a workplace pensions mobile app all offer 70% or more of the functionality of their Member Portal on their app.
The functionality for carrying out changes to a member's workplace pension is a mixed bag between different providers.
Crucially, the majority of mobile apps (85%) do allow for members to change or update their retirement date. Over half (65%) also allow members to change the beneficiary in the event of their demise, and 85% of mobile apps allow members to transfer another pension to their account.
Fund switches are also achievable within 80% of mobile workplace pension apps.
However, the functionality for members to adapt what they are putting into their pension is lacking for several providers' mobile apps. Only half of apps include the ability to increase monthly member contributions, and 70% allow single payment pension top ups.
Hargreaves Lansdown and Royal London's mobile apps fare poorly in this area, allowing for very few changes to be made by members.
Aviva, Fidelity, Mercer Master Trust (Aviva), and Scottish Widows offer the largest number of changes to be made via their mobile apps to contributions, retirement date, fund switches and transfers. This may perhaps be the result of strong investments made in technology by insurance providers and banks over the last five years.
With many members finding their plans and priorities significantly disrupted by the events of 2020, more people than ever before are searching for financial advice online.
With negative perceptions leading to just 10% of UK adults taking independent paid-for financial advice in the past two years(4), many are turning to their employer and/or workplace pension provider for digital tools to fill the advice gap.
Our data shows that 80% of workplace pension provider apps include retirement planning tools to help members plan their future. The same number of apps (80%) also included the ability to model different retirement outcomes.
One driver for the development of mobile applications for the management of pensions has been Open Banking. Open Banking forced the UK's largest banks to begin to release their data in a secure, standardised form, so it can be shared more easily between authorised organisations online. As a result, consumers have begun to become used to seeing multiple products, often from multiple providers, through one mobile application.
Our data shows that many workplace pension providers are including other products and services within their workplace pensions mobile application.
The mobile apps of fifteen providers show details of other products and services they operate that members can have alongside their pension information.
The most common products included on workplace pension providers' mobile apps are ISA (85%), GIA (75%), Protection/Insurance (35%), and General Insurance (35%).
Aviva and Legal & General are the only providers to offer all these products via their workplace pension mobile app. They offer these across their workplace pension apps including those for their Master Trusts.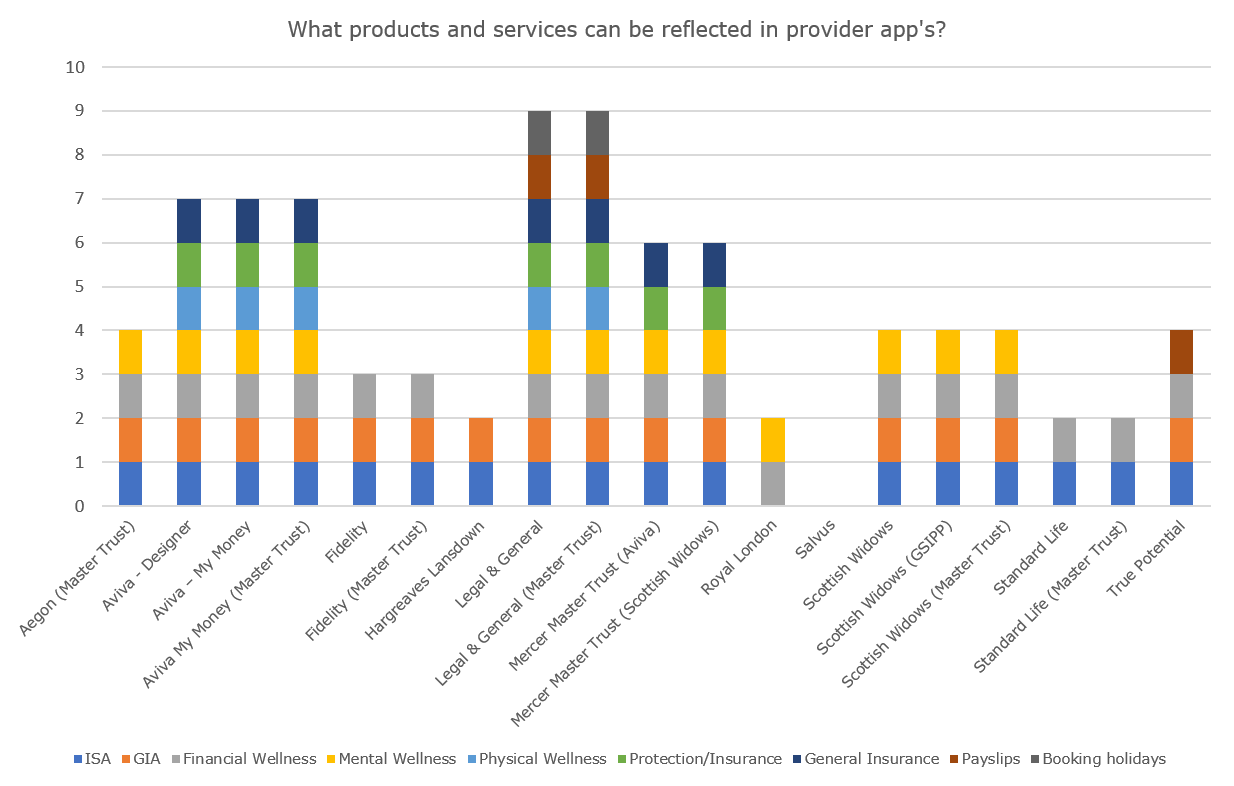 Mental health and human resources services are also included in the mobile applications for several providers.
Mental health and the wellbeing of workers is a top concern for many employers. A survey by the Chartered Institute of Personal Development(5) found that 67% of employers cited their employee's mental health and wellbeing as the main organisational challenge they currently face.
Financial Wellness services are included in the app for 85% of workplace pension providers, with 60% also including a Mental Wellness service. A Physical Wellness service was available on the apps of 25% of workplace pension providers.
Aviva and Legal & General fared best in terms of Wellness Services. Financial, mental and physical wellness services were accessible across the Aviva Designer, Aviva My Money, Aviva My Money (Master Trust), Legal & General, and Legal & General Master Trust apps.
Tools for assisting with more traditional human resources services are less common on workplace pension apps. Only 3 providers currently offer a payslips service (Legal & General, Legal & General Master Trust, and True Potential), and only 2 providers offer a facility for users to book annual leave through their workplace pensions mobile app (Legal & General, and Legal & General Master Trust).
As consumers get increasingly used to seeing financial information from multiple sources in one space, our data shows that some workplace pension providers are also including third party functionality such as specific flexible benefit or reward packages the employer has in place.
Just over half (55%) of workplace pension provider mobile apps can show access to third party functionality.
However, our data does promise potential further innovation as 70% of providers said their mobile app can be tailored to include any specific content from the employer.
Sources:
Kaspersky Labs research, 18th August 2020
Survey of 1,000 UK adults, commissioned by FinTech firm Nucoro
Opinium surveyed 2,000 UK adults on behalf of Aegon between 15-19 May
Research among 2,000 Britons for OpenMoney's second annual advice gap report in conjunction with YouGov
CIPD, People Profession Survey 2020, 27th May 2020.