Whether you're an adviser, employer or member, there's a lot to take on board when it comes to workplace pension schemes and there will be times when you need some help from the provider.
This is an area where which all providers take seriously. As a customer there is nothing worse than having a query or a problem but struggling to find the right person to help you. Being passed from pillar to post doesn't give a great impression of a company, which is why all providers offer various types of support for different aspects of workplace pensions.
It is common practice for providers to have dedicated teams or account managers to deal with specific issues. All 11 providers in our analysis have specific teams to help with areas such as the establishment of pension schemes and the payment collection process, including queries. With most propositions, these dedicated teams provide support to advisers, employers and members (referred to as all parties in the table below). However, there is some variation between propositions, with some support services aimed at specific parties.

All of the provider propositions are offering call centre support. In most cases would be the first port of call for most people who have a query or need help, however, this support is in some cases limited to certain times or restrictions.
There is a fairly even split between those who do so only during core business hours on weekdays and those who also provide it outside those hours.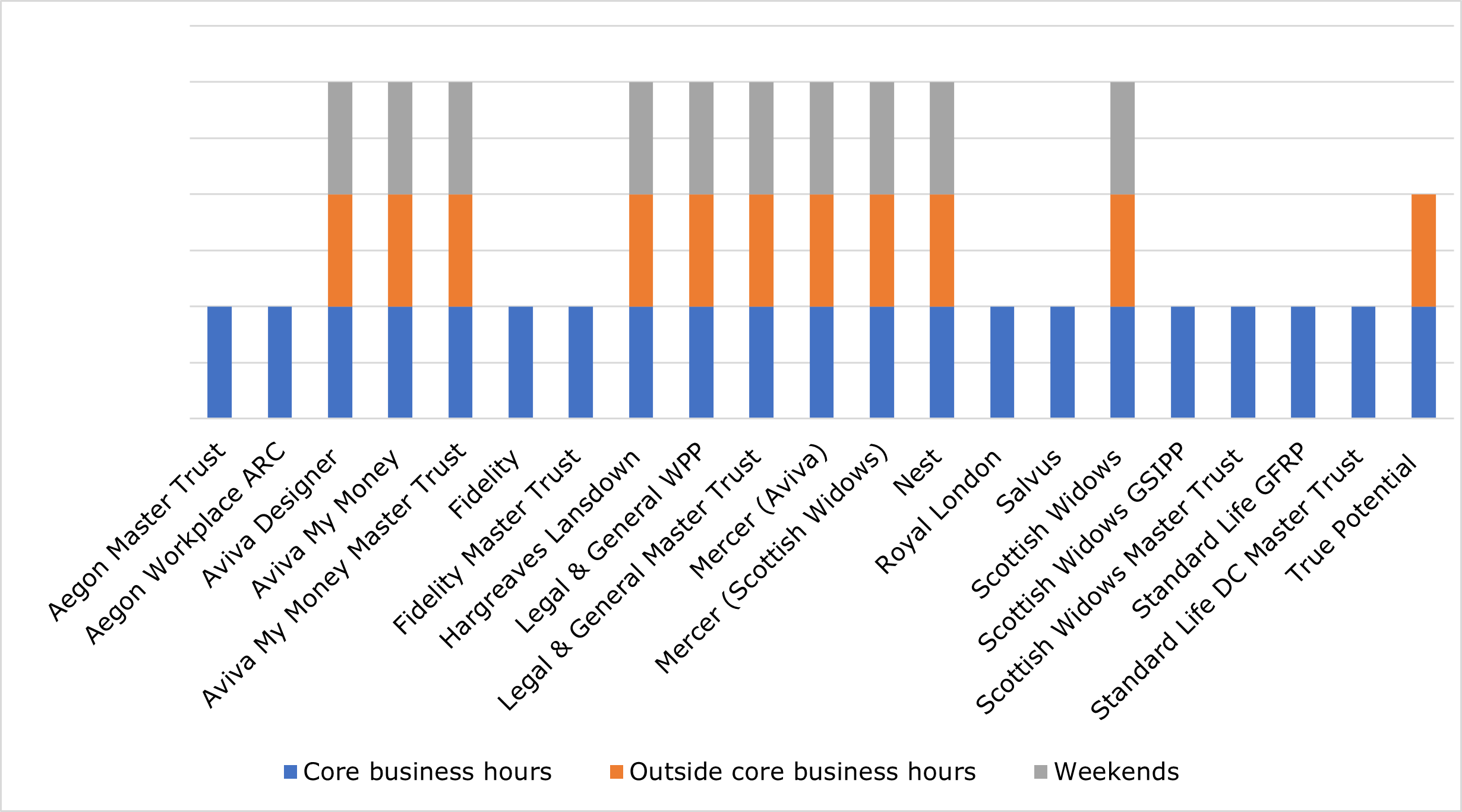 Almost halve of propositions make their call centre services available during weekends, which may be because providers want to give members who work during weekdays a weekend slot to call in with their queries.
However, providers are also using online support via their app or website to offer assistance via online help desks, chat rooms, guides and webinars. Online demos and training are also a popular way of providing support, with 19 out of 21 propositions making demos available and 17 propositions offering online training.
In most cases, online training sits behind the secure area on providers' websites, although for some providers non-sensitive and generic help will be in front of security.
Providers tend to limit onsite training to advisers and employers rather than offering it to members. This makes sense because travelling to training centres is probably not practical or economical to offer to individual scheme members. However, the two Mercer Master Trust offerings do make onsite training available to all parties, so it is possible. However, given how 2020 has panned out we suspect that there has been a large increase in online servicing and the use of screensharing services.
One area where an efficient service from providers will be particularly appreciated by all parties is the implementation process. This involves getting the employee data on board the providers' platforms, usually via a generic or pre-formatted excel or CSV file. Once this is complete, the employees become scheme members, so they and their employers can start making contributions to their pension pots.
All providers have dedicated staff who deal specifically with implementation and these teams will have ongoing and day-to-do relationships with certain clients. 12 out of the 21 providers have Service Level Agreements in place with the employer to ensure that this is carried out in a timely fashion. This process can take anything from a couple of day to a couple of months and will really depend on the size and complexity of the scheme.
Support does not end after the initial implementation phase – all providers will continue supporting clients through the transitional phase at no extra cost. However, how long that support will continue varies between each provider.
The majority – seven out of the 11 providers supplying data – don't have a specific time limit for providing ongoing support. Their responses are all variations on one theme – providing support until it is no longer required. This will be reassuring for advisers, as their clients will always have the technical help they will need.
Royal London will offer ongoing support for up to six months while three providers – Aegon, Aviva and Scottish Widows – will eventually hand over to servicing teams. Aegon and Scottish Widows' implementation/new business teams will hand over to the servicing teams after three months, but in Aviva's case, it will depend on the complexity of the project.
A workplace pension is not 'once and done' exercise.  Getting the scheme set up and the members all on board is only the start. We will be exploring what more detail in a future insight what support and help is available to advisers, employers and members on a monthly basis in the coming weeks.