Financial education programmes from financial institutions and personal finance websites have grown phenomenally in popularity over the past five years.
Financial education is more important than ever as more people from all age groups face anxiety around their finances. Two in five UK workers said they have lost sleep as a result of financial anxiety in the wake of the Coronavirus pandemic, according to a recent report from Close Brothers[1].
These times of financial stress can be an opportunity for employers to proactively support their people. The pandemic has changed the way people think about money and gives employers an easy way in to raise the subject of financial wellbeing with their staff.
We are pleased that our data shows that all workplace pension providers offer a range of financial education materials for their members.
All workplace pension providers offer materials to explain what a pension is and why the employer is providing a pension scheme. A pension is an extremely value asset and sometimes the value can be overlooked.
Death Benefits education is also provided by all workplace pension providers. All providers can deliver information on death benefits before retirement, explanatory information on Expression of Wish forms, and information on death benefits after retirement.
Budget planning is also widely supported. Our data shows that all workplace pension providers other than NEST provide a budget calculator and general holistic information of budgeting aspects that the member should consider.
Other than Salvus, all providers offer information on the Basic State Pension. Of these, all other than for Aegon, Hargreaves Lansdown and Standard Life this also includes links to the State Pension Forecast with Gov.UK
[1] Close Brothers Changing Trends of Financial Wellbeing report July 2020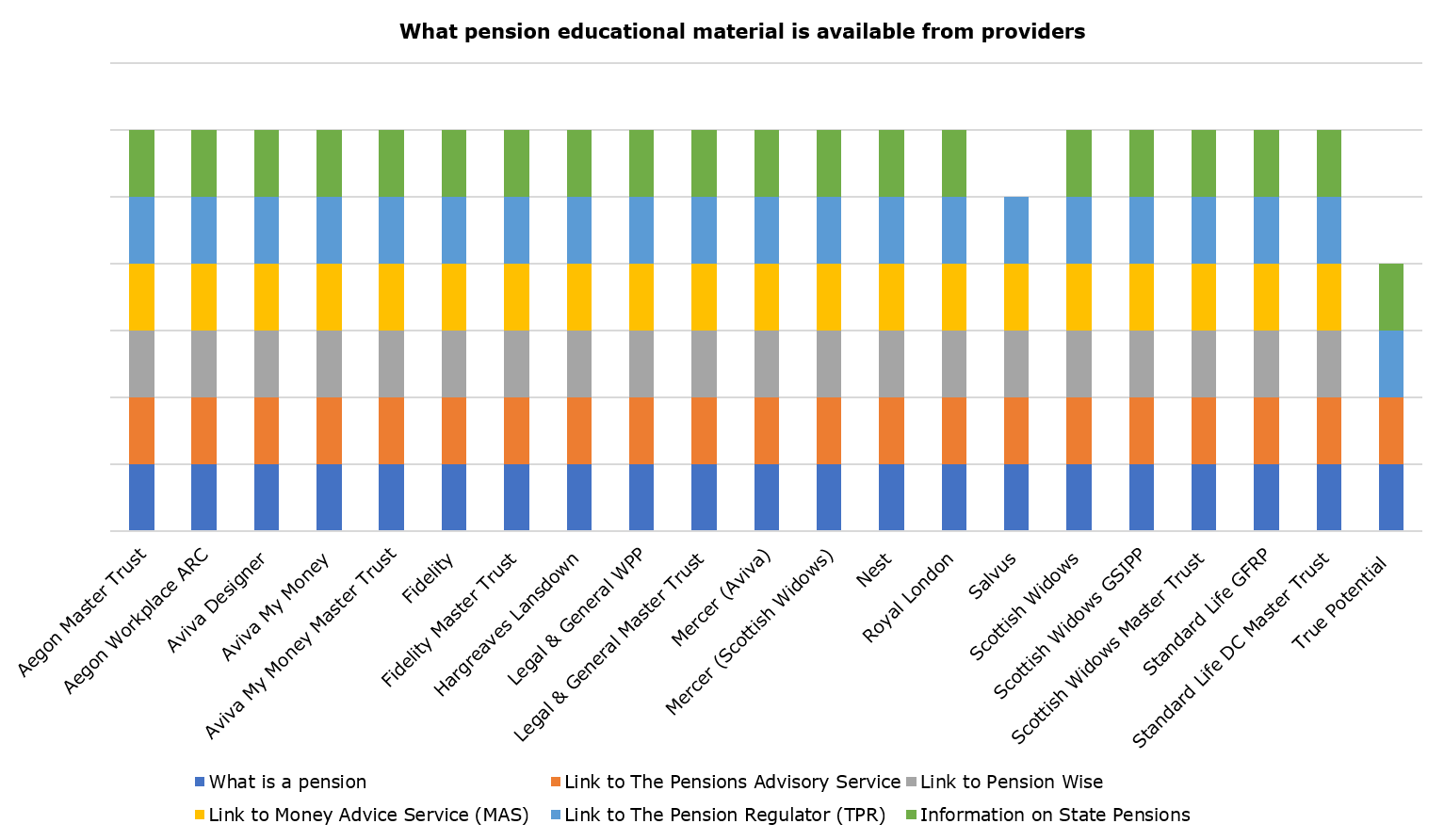 When it comes to educational materials on the member's retirement options, our data shows a slightly more varied approach.
Our data shows that other than NEST and Salvus, all workplace pension providers segment the retirement information they provide to ensure the member receives information appropriate to their age.
All providers offer information on the basics such as the Open Market Option, the provision of wake-up packs, explanatory information on available fund choices, and information on ethical investment. All providers other than NEST also include links to calculation tools and information on salary sacrifice/exchange.
When it comes to looking at more detailed and complicated options such as information on uncrystallised funds pension lump sumps, investment linked annuities, and life styling, some providers offer more than others.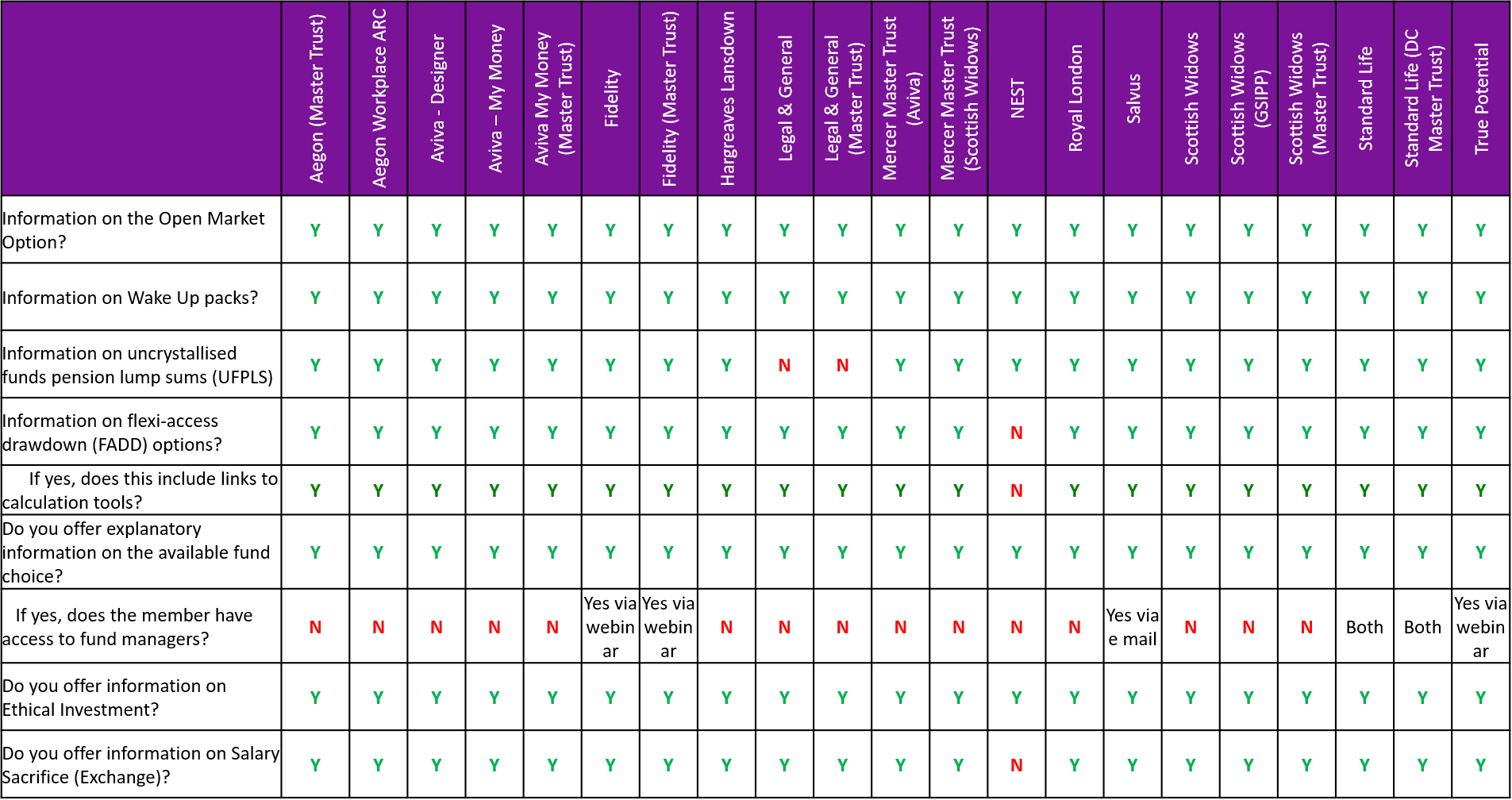 Education material on tax changes was also a little patchier with 14% of workplace pension providers not offering any information on this.
In the Close Brothers report, 50% of respondents said they would turn to websites for help with their finances.
Our data shows that workplace pension providers can facilitate online learning for their scheme members, with most providers offering the majority of their education materials online.
The majority (71%) of providers also have an online forum where members can ask questions about pensions.
Our data shows that workplace pension providers link to several government organisations through their member education service. All providers include a link to The Pensions Advisory Service and The Pension Regulator. All providers other than True Potential also link to Pension Wise and the Money Advice Service.
Another source of information for members is their financial adviser, where they have one.
Our data shows that all workplace pension providers provide some form of educational materials for intermediaries also.
The most common form of educational material provided for intermediaries is information on topical pensions issues. All providers offer this online, with 71% also offering paper materials. All providers other than Salvus also offer information on topical investment issues.
The majority of providers offer online seminars for advisers to attend, with only Legal & General not offering this in any format. Of those who host seminars, only Hargreaves Lansdown and NEST do not offer materials alongside them.
Overall, workplace pension providers support a wide range of pension and financial education for both members and advisers.
True Potential appears to be the winner here as they offer the widest range of education materials and tools across members and advisers. Impressively, they offered some form of education materials for every area covered by our data.