The ongoing response of the Government and UK financial institutions to help vulnerable with payment holidays and extra protection has been welcomed by many debt charities, but many workplace pension members are still likely to be in considerable financial distress. This insight will look at what workplace pension providers are offering in terms of assistance for their members.
In the last twelve months, 44% of UK adults have run out of money before their next pay day at least once and 60% of households are holding some form of debt (1).
Despite increasing financial difficulties amongst the UK working population due to the economic stressed caused by the Coronavirus pandemic, our data shows just 29% of workplace pensions providers currently provide access to debt management tools for the use of members.
Interestingly, the majority of the providers who do offer debt management tools for the workplace pension clients have an insurance background. Aviva offers debt management tools across its Aviva Designer, Aviva My Money, and Aviva My Money (Master Trust) propositions. Mercer (part of the Marsh & McLennan group which includes several insurance focused businesses) offer the tools for their Mercer Master Trust (Aviva), and Mercer Master Trust (Scottish Widows).
The outlier is True Potential, with a more investments/wealth focused history.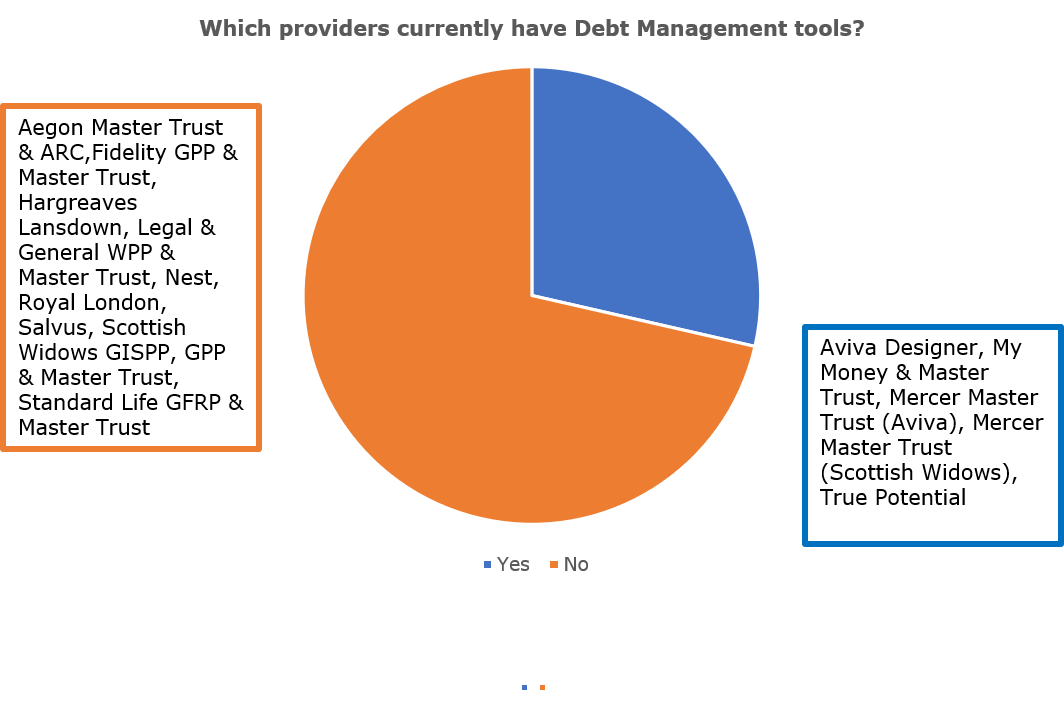 For the six providers which are offering a debt management service what is included in these tools varies in several key areas dependent on the provider.
For example, the tools from Mercer Master Trust (Aviva) and Mercer Master Trust (Scottish Widows) offer an emergency cash function, which is not offered by any other providers.
Whereas the Aviva Designer, Aviva My Money, and Aviva My Money (Master Trust) tools offer bankruptcy declaration assistance which is not an option with any other provider.
The only two functionalities that are common to all the debt management tools on offer from workplace pension providers are an ability to list their debts anywhere within the tool, and an ability to view the balance of their debts against their assets.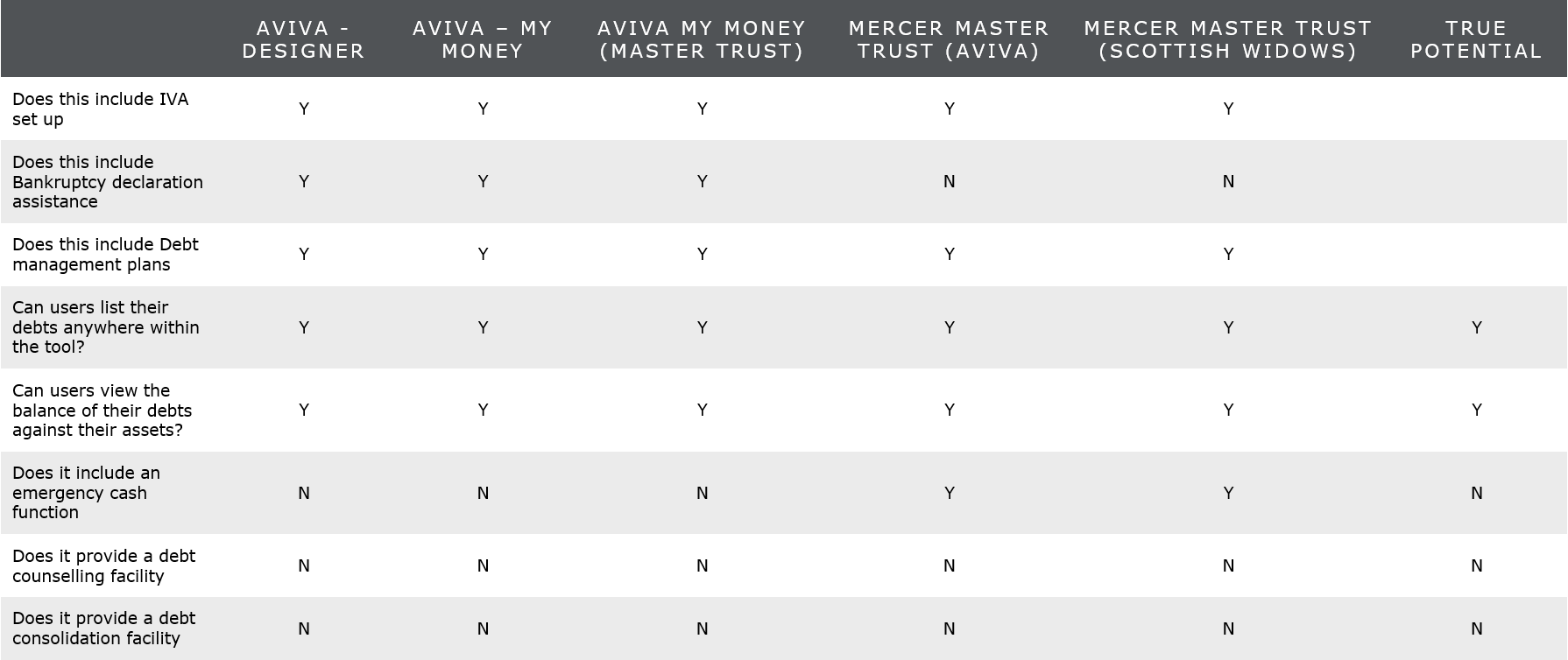 The Coronavirus pandemic has exacerbated the financial problems of many. A survey of over 4,000 UK adults found that 44% are more stressed and anxious about their finances since the pandemic begun and nearly a quarter expect their financial position to worsen by autumn (2).
With mental health being seen as such an important piece of the puzzle by employers (3), it is surprising to see in our data that not a single workplace pension provider offers a debt counselling facility.
Some providers that do not offer a debt management tool, do however offer literature and/or sign-positing to specialist advice for their workplace pensions members.
References:
YouGov surveyed 2,081 adults online between 9 and 10 March 2020.
LV= surveyed 4,004 nationally representative UK adults via an online survey conducted by Opinium in June
A survey by the Chartered Institute of Personal Development found that 67% of employers cited their employee's mental health and wellbeing as the main organisational challenge they currently face. CIPD, People Profession Survey 2020, 27th May 2020