Businesses, including most of the consumer finance sector, are pushing ever more towards a paperless society as people become more aware of the effect of paper consumption on the environment. Our data shows that workplace pension providers are still sending a lot of member communications via hard copies, however digital communications are on the up
When we asked workplace pension providers if their system provides/generates all the required and statutory member communications, it was no surprise to hear that they all do, and at no additional costs to the employer.
Each provider included in our research will produce generic scheme documentation regarding automatic enrolment (the scheme the jobholder has been enrolled in and what it means), client specific documentation regarding the rights to opting in/out, supporting documentation about where to find further information and general information on retirement savings. All of these member communications are triggered automatically by the provider.
However most providers are still relying on old-fashioned snail mail to send these documents. Only one provider (Aegon Workplace ARC) did not automatically send out member communications via hard copy, as opted for automated options.
This reliance is likely to be partially due to the regulator, and their tendency to require key consumer communications to be sent on paper, unless specifically requested otherwise (most providers will have an option to 'go paperless' in the member portal).
Our data shows that half (50%) of workplace pension providers are sending certain member communications via text message. An encouraging 90% of providers are sending member communications via online/member portal, and 85% are sending members communications via the member app. Given the current Covid-climate, we would image that online (app or portal) communications would be most favoured.

The three Aviva offerings are even able to send out some member communications via smart home devices such as Amazon's Alexa, which supports over services such as members self-serving for pot valuations and contribution increases.
It is very encouraging to see that 60% of workplace pension providers are informing the member every time a contribution is made of their policy. This will help with member engagement and reinforce the value that the member is getting from their employer. The majority of contribution communications are sent digitally through the member app or portal, with all but one of the providers (Mercer Master Trust (Aviva)) sharing these communications via email. It is positive to see that no one is sending these monthly communications via the post, however in the future we might see SMS or WhatsApp introduced.
Do you communicate to the member each time money is paid into their pension?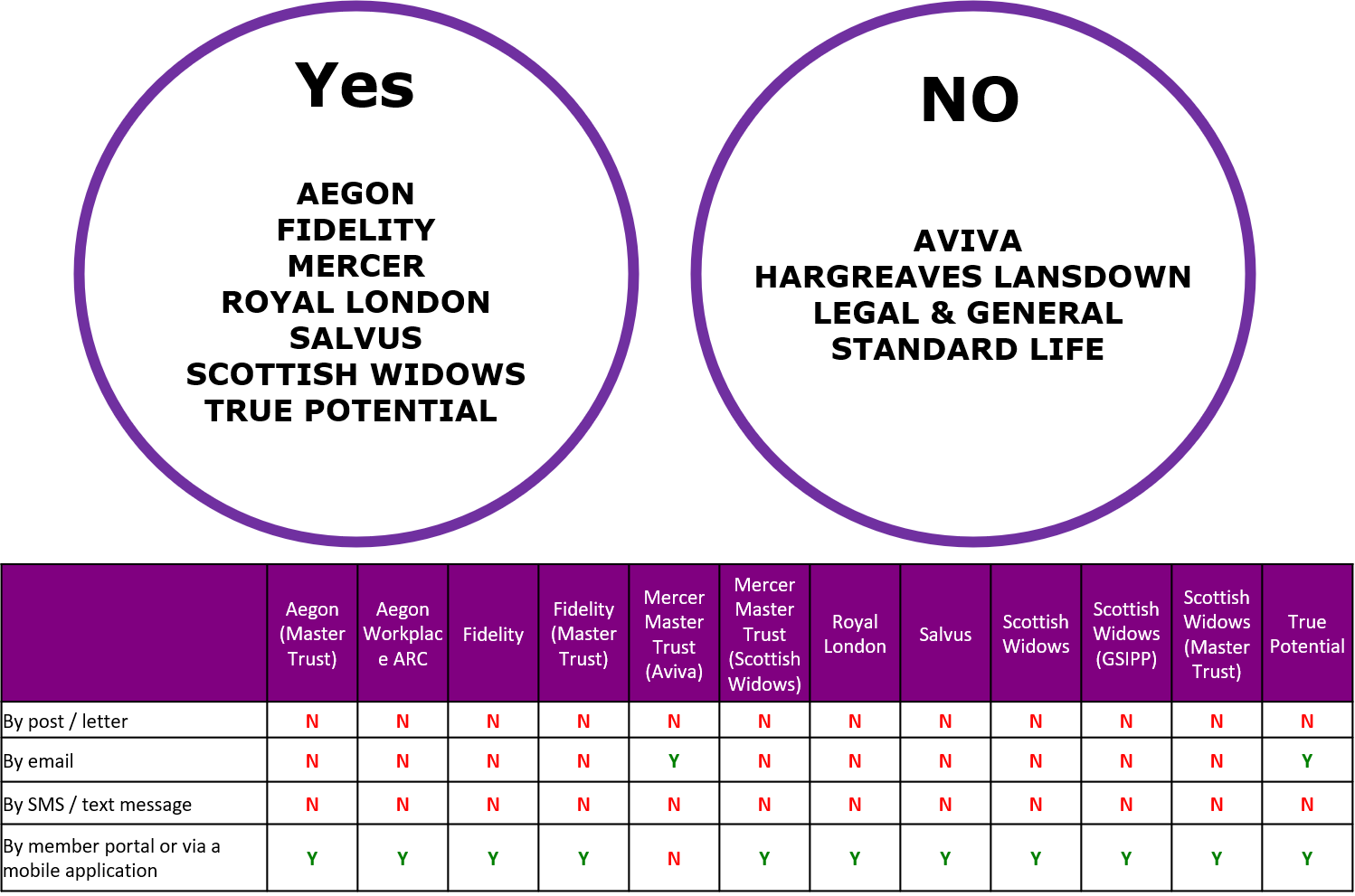 Other communication such as dedicated pension reform support is also available online for the majority (70%) with providers hosting a dedicated website for the member, and salary exchange information is integrated into the member communications for the majority of workplace pension providers. Only True Potential and Salvus do not currently allow for this.
Our data shows that providers are taking a more differentiated approach towards generating and the issuing of regulatory correspondence for members.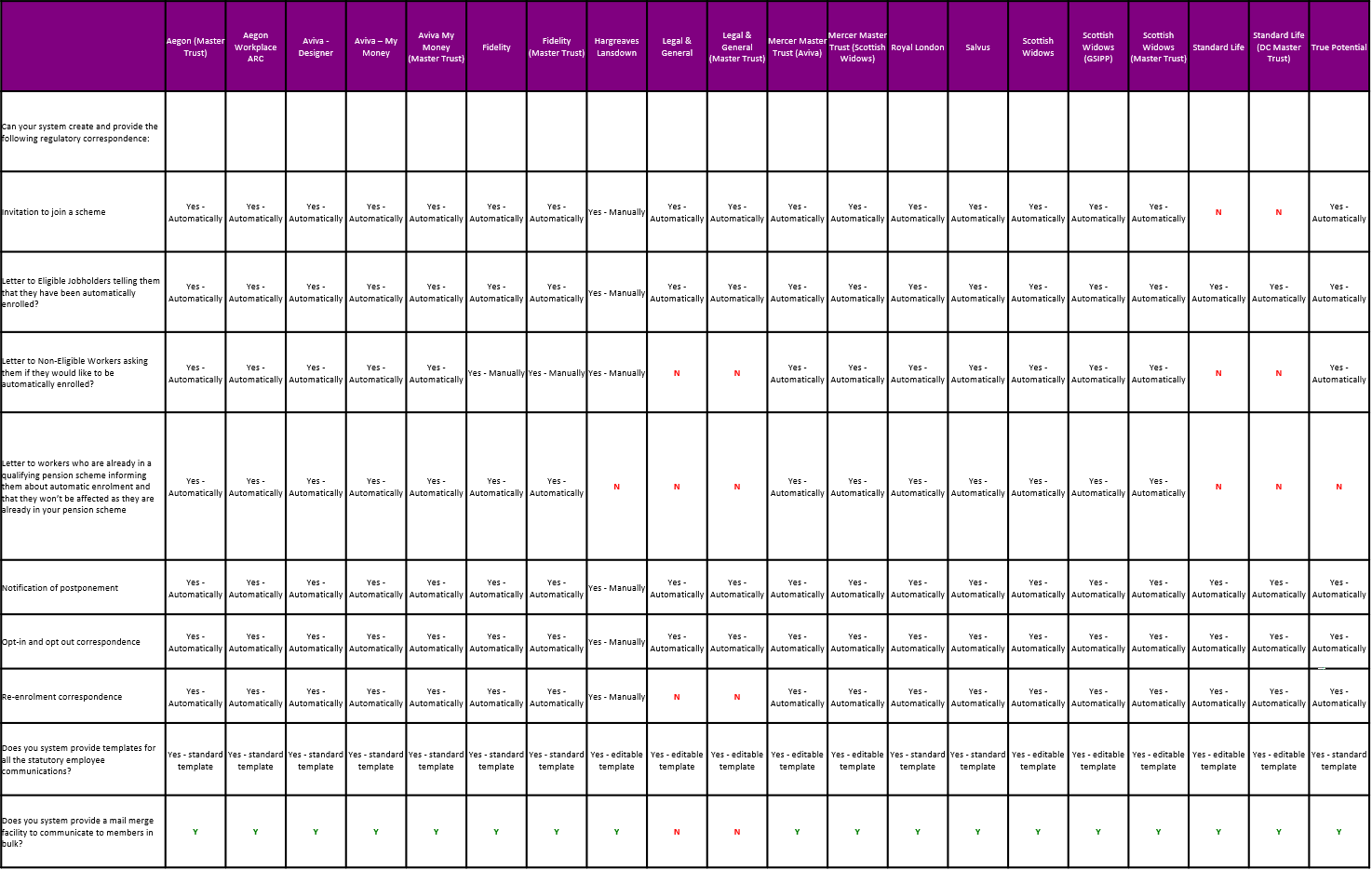 The majority of providers (85%) are able to automatically create and provide an invitation to join a scheme within their system. Hargreaves Lansdown are able to manually create and provide such an invitation. Whereas Standard Life and Standard Life (DC Master Trust) are unable to create these.
This is fairly typical of the various workplace pension providers when it comes to their approach to the creation and provision of regulatory correspondence for members.
The systems of most providers are able to automatically create the following:
Letters to eligible jobholders telling them they have been automatically enrolled,
Letters to non-eligible workers asking them if they would like to be enrolled,
Notifications of postponement,
Opt-in and opt-out correspondence and,
Re-enrolment correspondence.
Only Hargreaves Lansdown requires these letters to be generated manually.
The systems of Standard Life are unable to generate letters to non-eligible workers asking them if they would like to be enrolled.
Letters to workers who are already in a qualifying scheme telling them about auto-enrolment appear to be slightly more complex. Hargreaves Lansdown, Legal & General, Legal & General (Master Trust), Standard Life, Standard Life (DC Master Trust), and True Potential do not offer the facility to create these within their systems.
The systems for Legal & General are also unable to generate re-enrolment correspondence. They are also the only providers that are unable to provide a mail merge facility to communicate to members in bulk.
Whilst communicating in bulk is a big-time saver, people like to see that any communications sent by their pension provider have been tailored to them specifically. The tailoring of workplace pension member communications is something that the majority of providers are facilitating in some fashion.
Our data shows that templates for statutory employee communications are available from all workplace pension providers. Half of provider systems offer a standard template, the other half an editable template.
All but one provider (True Potential) allow for member communications to be tailored to different employee groups within an organisation.
White labelling and co-branding is favoured by most employers and we are pleased too see that this is widely available with 85% of workplace pension providers facilitating it for all their documents.