One of the key drivers of the Financial Conduct Authority (FCA)'s new Consumer Duty rules was concerns around the treatment of vulnerable customers.
With the new rules coming into force next year, the pressure is on for workplace pension providers to ensure they are doing all they can to ensure vulnerable customers are being treated fairly.
Our latest insight article looks at the process's providers have in place to identify and address vulnerable customers.
Following concerns around the standard of conduct displayed by financial services firms, the FCA has developed its new Consumer Duty rues in order to ensure the businesses it regulated treat customers deliver good outcomes for all retail clients, including those with vulnerabilities.
Amongst the concerns noted by the regulator were that firms were failing to provide appropriate customer support and selling products not suitable for them to vulnerable clients.
With the new rules coming into force next year, the pressure is on for workplace pension providers to prove they are already obeying the spirit of the new duty in advance of its official implementation.
As part of our 2022 Financial Wellness ratings, we created a new question set to fully understand the different approaches workplace pension providers have adopted in order to help identify and address vulnerable customers.
We were really pleased to see that our data showed that all workplace pension providers have a process in place to identify vulnerable customers, including regular vulnerability identification training for all consumer-facing staff.
All providers in our analysis, other than Mercer Master Trust and True Potential also have confirmed that they have a dedicated team to identify and address vulnerable customers.
The tables below outline in more detail the approach each provider has adopted to help identify vulnerable customers within their business.
All workplace pension providers are also aware of the current FCA guidance for firms on the fair treatment of vulnerable customers and adhere to its four principles.
Under the current guidance the four principles are: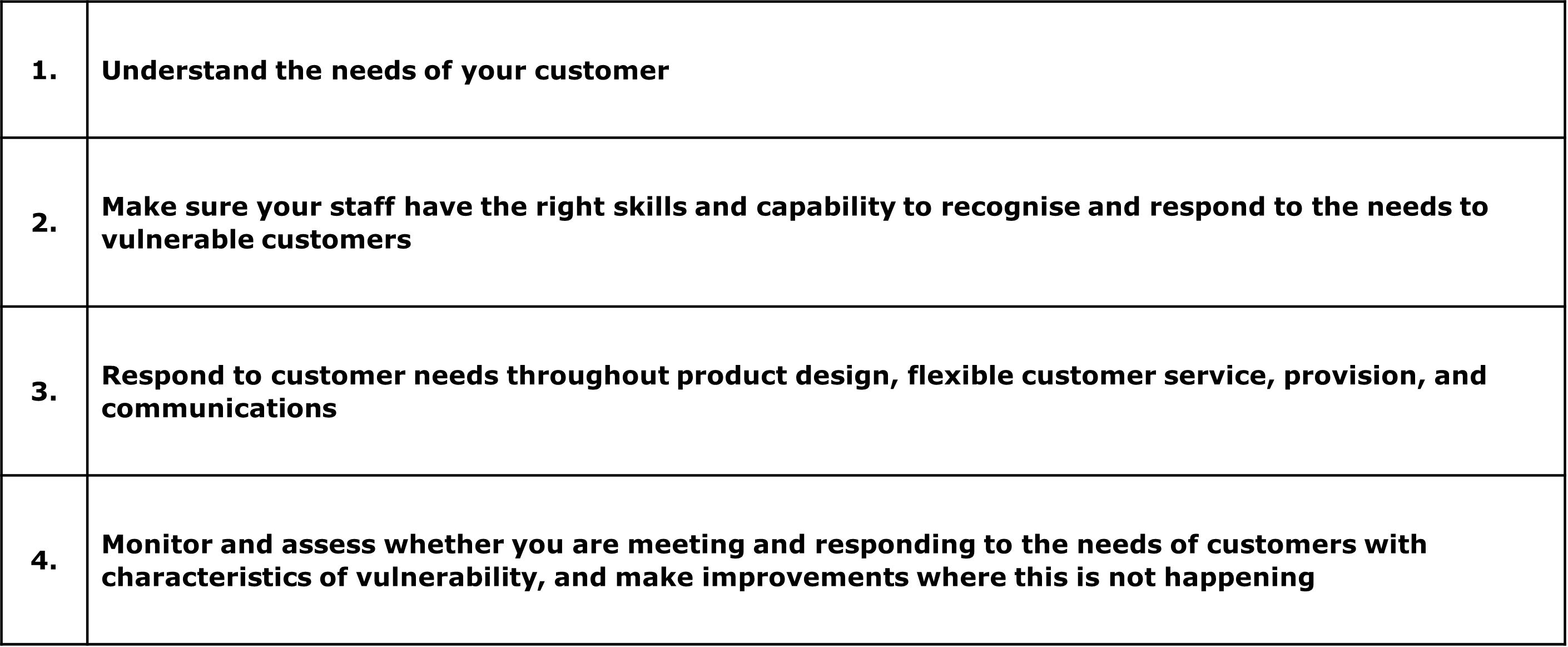 Aviva have focused a lot of effort around the first of these four principles. They have refreshed their internal vulnerable customer policy and aligned it to the 6 pillars of capability detailed in the FCA's final guidance. The policy has an executive owner and is oversighted through the UK Life Vulnerable Customer Executive Steering Committee. Each business has a detailed plan to ensure the vulnerable customer policy is implemented consistently.
Aviva have also conducted quantitative and qualitative vulnerable customer research to understand the scale, nature and characteristics of vulnerability present on their customer base and what additional needs these customers may have, which is being shared across the business. They are utilising data science expertise to build vulnerable customer outcome measures to monitor the experience and outcomes for customers in vulnerable situations.
When it comes to the second pillar, ongoing training is taking place at all providers. For example, Aegon run CBT training for all staff annually. For customer facing staff there is specific classroom training. For vulnerable client champions there is additional classroom training, and all classroom training is annually refreshed.
When it comes to the third point and responding to customer needs, all providers are considering vulnerable clients throughout product design, flexible customer service, provision, and communications.
For product development, Royal London has based developments on 'robust customer insight' including segmentation of the customer base to identify the specific needs of vulnerable customers in particular. Its development teams must be able to evidence this and also track the impact through MI.
When it comes to provision and communications, Scottish Widows conducts DAC reviews of online journeys and has developed alternative format communications for different vulnerabilities.
When it comes to monitoring and assessing whether they are currently meeting the needs of vulnerable customers, workplace pension providers are capturing and analysing internal data, with some providers also using external sources.
Legal & General use net promoter scores to monitor feedback and improvements. These scores are calculated each month. They also use an external company called Watermelon to independently conduct surveys and scores. They measure member satisfaction on all completed processes and every part of the customer journey provides the option of completing a survey.
We will continue to explore the various approaches providers have adopted in our next insight, which will focus on what training, support and additional services are available.