When we don't know what to do about something, we tend to ask other people for advice. But when it's about something specialist, like a workplace pension, that advice needs to come from a professional.
Since pension freedoms were introduced in 2015, which allow people to access their pensions from age 55, people now have more flexibility around what to do with their pension pots and when to do it.
The problem is, the rules around pensions have been built up gradually over time, so we are left with complex layers of legislation that make it hard for most people to understand what aspects will affect them.
This makes it very easy for people who don't understand what they are doing to do something with the best of intentions, only to find they have created a different sort of problem for themselves – such as running out of money during retirement or facing tax penalties they didn't expect. Getting regulated financial advice from a professional financial adviser will help people through some otherwise difficult decisions.
Financial advice that is tailored to personal circumstances can help employees start from a stronger position when they begin accumulating their retirement savings. In the middle of their career it can help employees back on track if their needs or circumstances have changed and at the point of retirement it can help them avoid some costly mistakes. This will all save them money in the long run, despite the upfront cost of paying for financial advice.
However, not all employees will want to pay for financial advice or be able to afford the full cost of it. This can often be a barrier that stops them getting the advice they need. However, those who have defined contribution workplace pensions or those who are members of a scheme with a mix of DC and defined benefits can make use of the Pensions Advice Allowance.
This allowance has been around since April 2017 and allows members of workplace pension schemes to use up to £500 from their pension pots to pay for advice on their pensions and retirement savings, tax free, in any one tax year. They can do this for up to three separate tax years, which is intended to help with the cost of financial advice at different stages of their lives.
However, pension providers don't have to offer access to the Pension Advice Allowance and three years on from its introduction, not all providers do so. Out of the 18 workplace pension propositions for which providers have supplied information, 10 do not facilitate a member's pension advice allowance payment, while eight offerings do.
As our graphic shows, the Aegon Master Trust, Hargreaves Lansdown, the two Legal and General propositions, Salvus and the three Scottish Widows propositions all facilitate Pension Advice Allowance payments. And all eight allow members to make the request for payments.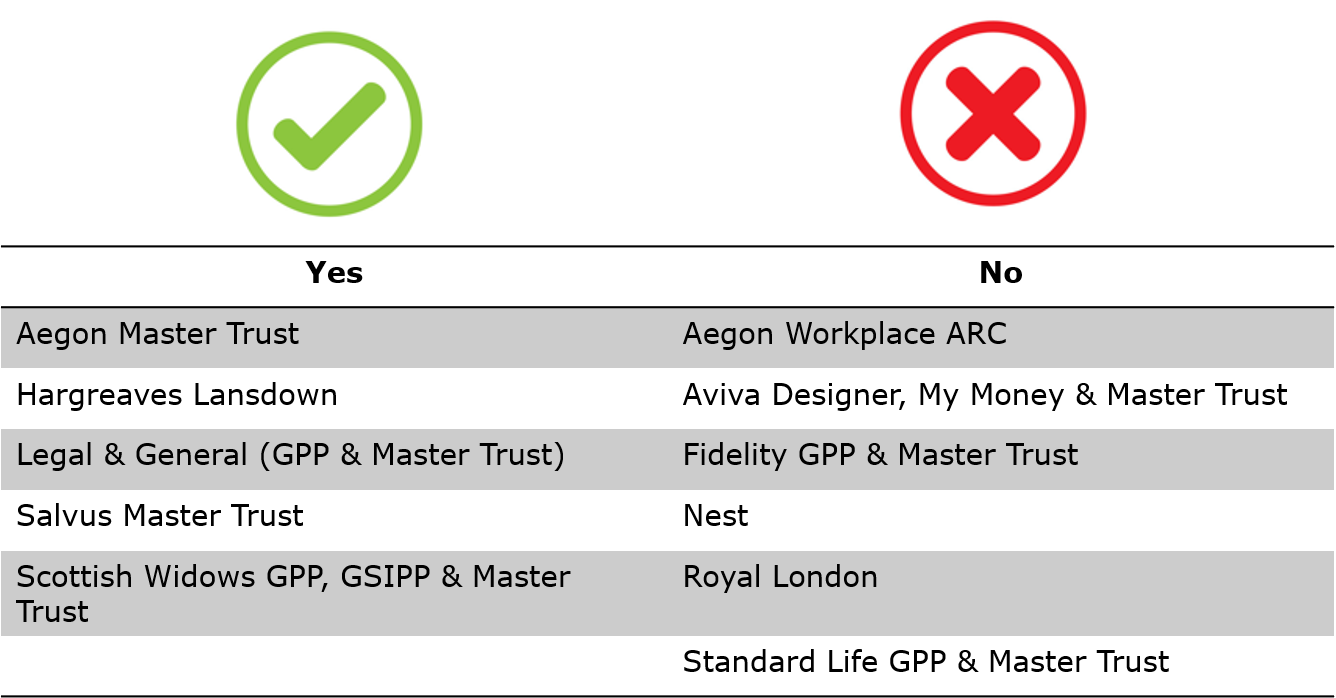 Our table also shows that there are different ways that members can request their providers to make the Pension Advice Allowance payments. Although there is some variation between providers, the majority allow requests to be made through the same methods of communication. And it seems that where members want to use the Pension Advice Allowance, traditional forms of communication are more popular with providers than new digital ways of communicating.
Perhaps surprisingly in the digital age, it is not possible to make pension advice allowance requests with any provider by email or though apps. Our table also shows that only one provider – Legal & General – enables requests for Pension Advice Allowance payments to be made through a member portal.
Instead, the old-fashioned written word is the preferred choice of most providers, with all eight propositions allowing requests for Pensions Advice Allowance payments to be made by the member in writing, via post or a paper request form.

After written applications, the telephone is the next most common way of requesting Pension Advice Allowance payments. However, this is available through fewer propositions – five out of eight. None of the three Scottish Widows propositions support requests for Pension Advice Allowance payments to be made over the phone.
The easiest and simplest way for the Pension Advice Allowance payments to reach a member's financial adviser is for the provider to pay that adviser, so this is what all eight propositions that facilitate these payments do. Making the payment directly into the chosen bank account tends to be how this is achieved – again, it seems to be the easiest and simplest way of paying the adviser.